BREWING FOR BETTER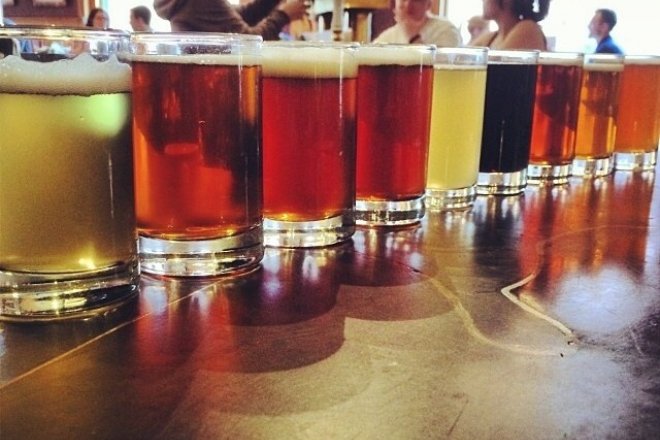 Craft beer has surely become mainstream among beer lovers. Breweries, microbrews, and gastropubs are regular fixtures, frequented by beer snobs and the inquisitive individual who wants to take on the beer world.
Given all of the different beer and brewery variations, it can be tough deciding who to give your drinking allegiance to. Wynkoop Brewing Company makes this decision easy by playing a major part in the revival of their Lower Denver neighborhood, while also supporting community endeavors and keeping the environment in mind.
Tapping Downtown
Created in 1988 through the help of Colorado governor John Hickenlooper, Wynkoop Brewing Company was Denver's first brewpub and microbrewery. Located in the Lower Downtown section of Denver, the brewery has helped to build the neighborhood from a skid row area to an affluent district through its focus on community, hospitality, and of course, beer.
By carrying and selling Colorado-based spirits, Wynkoop Brewing helps to promote and support local businesses. The restaurant is also moving towards zero waste via recycling and composting.
Wynkoop beers are small-batch, artisanal brews sold both in the brewery and in some close locations. Some of these beers have even been created with local organizations and establishments, such as Moe's Original BBQ Bourbon Barrel Quad and the Cottonwood Organic White. The brewery has 40 different beer styles, and is always experimenting with new styles and tastes. Wynkoop Brewing distributes these beers in cans because of their belief that "cans are [also] the "greenest" beer package. They are less fuel-consuming to ship, infinitely recyclable, and the most frequently recycled beverage package in the world." However, you can also take home their product in kegs and growlers when purchased directly from the brewery itself.
The brewing company also doubles as a restaurant, serving up delectable bites for all visitors, where they also offer wine and cocktails. The house wine hails from local winery Infinite Monkey Theorum, while the spirits used for the crafting the cocktails are all Colorado-based distilleries. By carrying and selling Colorado-based spirits, Wynkoop Brewing helps to promote and support local businesses. The restaurant is also moving towards zero waste via recycling and composting, always keeping its environmental impact in mind.
Building Community
Beyond the beer, Wynkoop Brewing pairs up with community partners in order to foster community. As the brewery states on its website, "If we can use beer to help people help people, well, we are excited to do it! "
One organization Wynkoop Brewing helps is the Cottonwood Institute, a non-profit educational organization stationed in Denver, Colorado. The organization's mission is "to connect underserved students to the outdoors and empower them to take action to improve their schools, the community, and the environment for future generations." Through its programming, Cottonwood Institute strives to inspire future generations to be environmentally conscious. Wynkoop Brewing has helped the organization by hosting fundraisers, donating beer and supporting auctions.
Wynkoop Brewing also supports Metro CareRing, the largest hunger-relief organization in Denver; Butterfly Pavilion, a unique zoo and educational opportunity for schools and visitors alike; Open Media Foundation, a non-profit that helps empower and embody people through technology; and Frites en Mayo Velo Club, a local bike racing club.
For the future, Wynkoop Brewing is hoping to take advantage of their Lower Denver spot by adding a tasting room and fashioning a space for their barrel-aging program. This expansion will help push the brewery into the experimental realm, which can draw the attention of the "beer geek" crowd.
Brewing for the betterment of its community earns Wynkoop a Joycott!
Read more